(ThyBlackMan.com) After an unsuccessful attempt to obstruct congress from carrying out its constitutional responsibility of oversight by trying to block his staff from testifying, President Donald Trump urged the GOP to "get tougher and fight". He said, "Some GOP lawmakers are great fighters. But they have to get tougher and fight because the Democrats are trying to hurt the Republican Party for the (2020) election."
.
Trump has good reason for wanting the Republicans to fight, because the testimony being laid out against him is devastating, and near certain to lead to his impeachment in the house. One credible witness after another is providing testimony that strongly suggest that Trump was withholding badly needed assistance to the Ukraine that was authorized by congress until they agreed to initiate an investigation into Hunter and Joe Biden, his likely political rival in the 2020 election. The picture being painted is that Trump was withholding nearly $400 million in American taxpayer money authorized by congress to help Ukraine defend against a Russian invasion for his own political gain in the 2020 election, and to the benefit of Vladimir Putin. So the testimony strongly suggest that Trump was using
our
money to benefit himself and Vladimir Putin.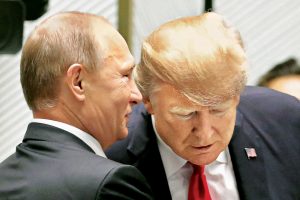 .
The GOP is no longer even trying to dispute the facts; now they've resorted to engaging in silly stunts and distractions in an attempt to disrupt the investigative hearing. They claim that the Democrats are holding a secret hearing where Trump is not being allowed due process. That's a sham. There are Republicans on the committee with equal rights to question the witnesses – but instead of challenging the facts, many of them were involved in the storming of the hearing room to disrupt the proceedings. The committee is merely gathering facts like a grand jury – which Trump tried to obstruct by ordering witnesses not to appear or produce evidentiary documents. After the investigation, the impeachment debate will be public, and if he is impeached by the house, then he'll also be provided due process in his trial in the senate.
.
So the bottom line is, Trump and the GOP are engaging in every disruptive device imaginable to keep the facts from being revealed, and Speaker Pelosi shouldn't tolerate this blatant assault on our democracy. She should have the Sergeant at Arms arrest these people, put them in jail, fine them each $10,000 a day, and have them striped of their security clearances for Inherent Contempt of Congress. This is deadly serious business. These people mounted a direct assault on the United States Constitution, so it shouldn't be tolerated for a second.
.
This stunt proves that Trump and the GOP are without limits and they'll do whatever they think they can get away with to save Trump. So this is just the beginning. Trump is already using language like "coup", "treason" and implying that the people who informed on him should be executed, so next he'll have his horde of ignorant bigots rioting in the street.
.
Can you even imagine ANY judge in the United States tolerating these rogue Republicans storming his or her courtroom like they did congress!!!? Absolutely not. They'd all go to jail. Well, congress is a coequal branch of government and deserving of the very same level of respect.
.
Vox reported, "On Wednesday, the United States Court of Appeals for the Second Circuit heard Trump's appeal of Marrero's decision. During that hearing, Trump lawyer William Consovoy confirmed just how far his argument goes. In response to a question by appellate Judge Denny Chin, Consovoy argued that Trump is immune from criminal investigation even if he were to shoot someone on Manhattan's Fifth Avenue." And now Trump has the FBI under criminal investigation by his corrupt attorney general, Barr, for investigating him and initiating the Mueller investigation, which also found evidence of his criminality. In addition, he's filed a lawsuit against New York Attorney General Letitia James to prevent her from turning his state tax returns over to congress (He's got his hands full there).
.
Trump envies Putin, and he's trying his best to turn the United States into Russia. So at best, Trump is an ignorant and uninformed spoiled brat, or at worst, a budding autocratic tyrant, so we'd better start treating him like one – him, and, his Republican storm troopers.
A MESSAGE TO SPEAKER PELOSI
.
EITHER DO YOUR JOB BY STEPPING UP TO THE PLATE TO DEFEND OUR DEMOCRACY, OR GET THE HELL OUT THE WAY AND MAKE ROOM FOR SOMEBODY WITH A BACKBONE. AMERICA IS AT WAR WITH A DOMESTIC ENEMY. THIS IS NO TIME FOR WOBBLY KNEES.
.
REPUBLICANS STORM HEARING ROOM
_______________________
Staff Writer; Eric L. Wattree
source: https://thyblackman.com/2019/10/27/republican-members-of-congress-storm-hearing-room-to-prevent-testimony/