I'm going to be handing over the blog to my colleagues in Australia now, who'll keep you updated with all of the key coronavirus developments from around the world over the next few hours.
Thank you all for following the blog with me, and a special thanks to those who shared tips and insight over the past few hours – it's much appreciated.
I hope you're all staying safe and well, wherever you are in the world. Goodbye from me!
Thanks to all those sending in tips and pointers, it's very much appreciated!
Just a reminder that if you spot something you think we should be covering in this blog, you can drop me a message on Twitter – @mollyblackall.
I won't be able to reply to everything, but will endeavour to read. Thanks again.
Peru is extending its lockdown for another two weeks after 54 days of quarantine, Peru's president Martín Vizcarra announced in a press briefing.
"We are in an extreme situation. We all have to work together," he said on Friday, stressing that the country had been unable to sufficiently cut the rising rate of infections amid several outbreaks in different parts of the country.
Covid-19 hotspots have flared up on the country's northern coast, where social distancing rules have been routinely flouted, and in the isolated Amazon city of Iquitos which suffered from a critical lack of medical supplies, particularly oxygen.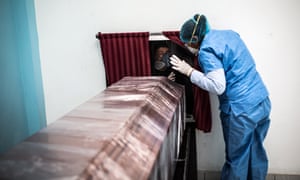 Despite one of the most stringent lockdowns in Latin America, Peru recorded more than 58,000 confirmed Covid-19 cases and 1,627 deaths on Friday.
Even in the capital Lima, medical attention was on the verge of collapse despite the best efforts of hospital workers who lacked PPE. However, Vizcarra announced an increase in the number of intensive care beds to 937.
The popular leader pointed out that banks, bus stops, and, most of all, food markets had been the principal points of contagion. He ordered the closure of 36 "critical" markets where spot tests revealed an infection rate of up to 40% among stallholders, and clampdowns in a total of 380 across the country.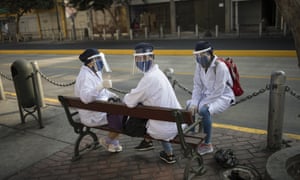 With Mother's Day looming on Sunday, Vizcarra issued a stark warning to his family-minded compatriots, as he paid tribute to all the Peruvian mothers working through the pandemic.
"The greatest desire is to go to your mother and give her a big hug (…) but we cannot do that, because we are responsible," he said.
"The best way of protecting your mother is to keep her far away. It's hard but we will beat this [virus]."
Amid the growing toll on mental health after close to two months of quarantine, Vizcarra said that children under the age of 14 would be allowed to venture out with an adult up to 500m from their homes from Monday 18 May.
source: https://www.theguardian.com/world/live/2020/may/08/coronavirus-live-news-trump-cdc-guidance-russia-germany-france-brazil-who-190000-could-die-in-africa